It's officially summer, and the big holiday weekend of the season spells festive get-togethers and celebrations in the sun and the heat. Well, you can take a cue from a year-round hot-weather destination and spice up your summer salad with a salad recipe from Antigua and Barbuda that hits the spot this hot holiday weekend.
This distinctly tropical salad is simple yet oh so delicious and refreshing – and adults only! It features a large watermelon and is infused with Antigua's signature Cavalier Rum; yes, rum! The secret is letting the sliced watermelon marinate in the rum for up to two days, ensuring the ultimate sweet flavour that will amp up your festivities and set a high note for the holiday weekend.
This twist on a watermelon recipe comes courtesy of Rodrick Beazer, the Executive Sous Chef of Curtain Bluff Resort in Antigua and Barbuda, the twin-island nation in the heart of the Caribbean Sea.
Antigua and Barbuda offer upscale island travelers not one, but two uniquely distinct experiences. Both islands enjoy ideal temperatures year-round, a rich history, vibrant culture, exhilarating excursions, award-winning resorts, mouth-watering cuisine and 365 stunning pink and white-sand beaches - one for everyday of the year!
The largest of the Leeward Islands, Antigua, comprises 108-square miles with rich history and spectacular topography that provides a variety of popular sightseeing opportunities. Nelson's Dockyard, the only remaining example of a Georgian fort, a listed UNESCO World Heritage Site, is perhaps the most renowned landmark. Antigua's tourism events calendar includes the prestigious Antigua Sailing Week, Antigua Classic Yacht Regatta, and the annual Antigua Carnival; dubbed the 'Caribbean's Greatest Summer Festival.'
Barbuda, Antigua's smaller sister island, is an off-the-radar celebrity hideaway. The island lies 27 miles north-east of Antigua and is just a 15-minute plane ride away. Barbuda is known for its untouched 17-mile stretch of pink sand beach and as the home of the largest Frigate Bird Sanctuary in the Western Hemisphere.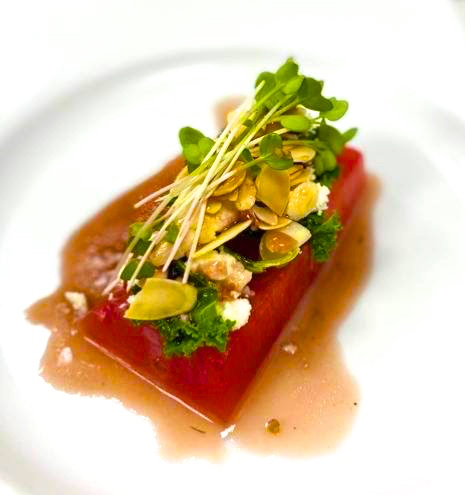 Antigua and Barbuda's Cavalier Rum-Infused Local Watermelon Salad
INGREDIENTS:
Start with a large watermelon; seedless watermelon is best for this recipe
1 cup Cavalier rum
½ cup toasted sliced almonds
1 bowl of fresh island greens
½ cup local goat cheese
2 sprigs kale
MAKE-AHEAD INSTRUCTIONS:
To infuse the watermelon:
1. Cut the watermelon in half, horizontally. Place half side down on a clean, dry surface. Then slice a portion off the round top and then each side, making it a square or rectangle. Slice into approximately 1-inch slices.
2. Place sliced (and seeded, if you aren't using seedless) watermelon into vacuum / sealable plastic bag(s). Pour in the Cavalier Rum.
3. Place vacuum bag into chamber vacuum sealer and pull a full, 100% vacuum on the fruit. You can also do this carefully without a vacuum sealer carefully by hand pressing out all the air.
4. The fruit can marinate in the rum in the refrigerator for up to two days. (After two days, juices will start to expel from the fruit, surrounding the fruit in the vacuum pouch. The fruit is usable, but the texture isn't as perfect.)
To Serve:
1. Remove watermelon from the pouch. Top with goat cheese, almond slices, and kale. Garnish with greens and serve!
Chef Beazer says that the rum-infused salad is a perfect side dish for barbequed fish - especially salmon - or chicken. He suggests pairing it with a light rosé or pinot noir wine to accentuate the sweetness of the watermelon.
Until you can make your next – or first! – trip to Antigua and Barbuda, we know this salad recipe will be your travel-inspired star of your sizzling summer entertainment!
Start your Tropical Trip!